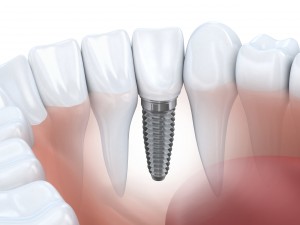 Embarrassed about a gap in your smile? Worried about what the space will do to your other teeth? Seek advice on custom dental bridges at Meriden Dental group.
Selected as Top Dentists for 2015 by Connecticut Magazine, Kevin S. Frank DMD, Venu M. Chimmiri DDS FAGD and Kevin P. Langan DMD at Meriden Dental Group skillfully rebuild smiles, offering various tooth replacement options for missing teeth. One such option is  the Meriden dental bridge.
What is a dental bridge?
Your 06450 dentist at Meriden Dental Group uses dental bridges to span gaps in smiles caused by tooth loss from decay, periodontal disease, congenital absence of teeth and injury to the mouth. Dental bridges have served dentists and their patients for decades as an economical, aesthetically pleasing and durable way to span a gap from one, 2 or multiple missing teeth. With regular dental care at Meriden Dental Group and practice of thorough brushing and flossing at home, dental bridges last for 7 to 10 years or more.
How is a Meriden dental bridge constructed?
Depending on need and preference, various materials comprise the dental bridge, including gold, metal alloys and porcelain. Frequently, the style of the bridge depends on where the appliance will function in the mouth. Basically, there are 3 styles:
traditional, in which porcelain crowns cover 2 abutment or supporting teeth on either side of the artificial teeth, or pontics
cantilevered, where supporting teeth are available on only one side of the smile gap. In other words, the pontics are attached to a single crowned tooth.
Maryland, in which the porcelain teeth are affixed by metal wings to adjacent teeth on both sides of the dental bridge
What is involved in the procedure?
The Meriden, CT dental bridge procedure is comfortable and involves at least 2 dental appointments: one to prepare the teeth for crowning and to take impressions, and another visit to bond the appliance in place. Both parts of the procedure are comfortable. Some patients require local anesthesia as the doctor shapes the abutment teeth to receive crowns.
The 06450 dentist  takes dental impressions which assist the lab technician in custom-fabricating the dental bridge. The doctor usually places a temporary appliance as well.
At the next visit, the dentist bonds the new dental bridge in place. He carefully checks the color match and overall look of the bridge and fine tunes the shape and bite, ensuring the new teeth feel comfortable and function properly. The doctor instructs the patient on how to take care of the new appliance at home.
Are you considering tooth replacement?
Don't delay. Filling in a smile gap strengthens remaining teeth, maintains their position and helps patients feel confident about their personal appearance.
Contact Meriden Dental Group to make an appointment with one of the Meriden, CT dentists. Their skill, care and attention will impress you as well as the excellent preventive, restorative and cosmetic dental services they provide.