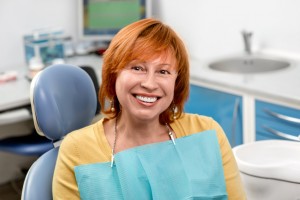 Unless you're a dental professional like the team at Meriden Dental Group, it's difficult to keep all of your dental options straight. But if you've got one or more missing teeth, it's important to know all about what's what in tooth replacement — like dental implants and bridges. What is the difference, exactly? Your dentist in Meriden, CT is here to explain these two replacements, and to help you decide which might be your best option.
Options in Tooth Replacement from Dentist in Meriden
While dental implants and dental bridges are both excellent tooth replacement options, one does offer a more complete restoration — keep reading to find out which.
An Introduction to: Dental Bridges
Dental bridges fill the gap of one or more missing teeth using the teeth on either side of the gap as anchors for the prosthetic tooth, or teeth. Prosthetic teeth only replace the visible portion of the tooth, and may be made of porcelain or another material. The process for getting a dental bridge may be carried out over two or three visits to Meriden Dental Group, but once it's complete you can expect your dental bridge to last for up to 15 years, if cared for properly.
Patients who choose a dental bridge at Meriden Dental Group always appreciate the fact that the device can restore the function and appearance of an incomplete smile.
An Introduction to: Dental Implants
Let's get right to it: dental implants are the best tooth replacement option. While dental bridges replace only half of the missing tooth, or the visible portion, dental implants account for the tooth's root, too. That's vital to your overall oral health, because the root keeps the jawbone healthy and strong — so you won't have to have your device refitted as your mouth degenerates and changes shape in the years to come.
Dental implants replace one, several or a complete row of missing teeth with tiny titanium posts that are inserted directly into the jawbone. Over a period of three to six months, your implants will fuse with the bone in a process known as osseointegration — a step that's key to the stability of your tooth replacement. After osseointegration has taken place your new tooth or teeth are securely bonded on, and you've got a beautiful, complete smile that can last a lifetime.  
Schedule Your Appointment for Tooth Replacement in Meriden, CT Today
If you're missing one or more teeth, don't wait another day to seek a replacement. Contact Meriden Dental Group to request your appointment. We're passionate about helping our Connecticut neighbors achieve the complete smiles they deserve — so click here to let us know you'd like an appointment today!