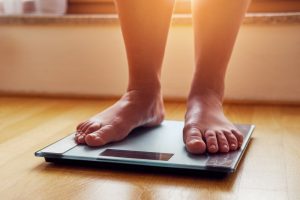 Millions of people in the U.S. carry some excess weight, and millions suffer from sleep apnea. In many individuals, both problems are present. In fact, according to one estimate, roughly 70% of individuals with obstructive sleep apnea (OSA) are obese. Why are weight gain and sleep apnea connected, and what can you do to manage both conditions? Continue reading to discover answers to these important questions.
How Weight Gain Contributes to Sleep Apnea
Anyone, including athletes of any age, can develop OSA. However, obesity is one of its major risk factors. This is because too much fatty tissue around the neck puts pressure on the upper airway, which may lead to pauses in breathing throughout the night. A neck circumference of greater than 17 inches for men and 16 inches for women significantly raises the risk of OSA.
Extra fat around the abdomen has also been shown to heighten OSA risk. It can decrease lung volume and contribute to breathing problems.
How Sleep Apnea Contributes to Weight Gain
Unfortunately, the connection between weight gain and sleep apnea is a two-way street. Individuals with OSA may be more likely to put on some extra pounds for a couple of reasons:
Sleep deprivation adversely affects the hormones that control hunger and appetite. Individuals who do not get enough high-quality rest often have elevated levels of the hunger hormone (ghrelin) and lower levels of the hormone that signals satiety (leptin).
Sleep deprivation makes it difficult to stay physically active. Physical activity helps to burn calories and supports a healthy metabolism. People who do not get enough rest are more likely to lead a sedentary lifestyle.
What You Can Do
The above information paints a grim picture, but if you are struggling with weight gain and sleep apnea, there are some positive steps you can take to manage both problems:
Get tested for OSA. If you suspect you have OSA but not have been officially diagnosed, talk to your doctor about scheduling a sleep test. The test is noninvasive, and medical insurance often covers it.
Seek treatment. There are numerous ways to treat OSA. You may qualify for an oral sleep appliance, which is a small device that repositions the jaw in order to facilitate easier breathing.
Design a reasonable weight loss plan. A general physician or dietician may be able to give you personalized guidance on how to reduce your weight. The better sleep you enjoy after you start OSA treatment may be a key in helping you reach your fitness goals.
Sleep apnea and weight gain are interconnected. Fortunately, by taking practical steps to address one of these issues, you might lessen the severity of the other as well!
Meet the Practice
Meriden Dental Group features a team of experienced dentists who offer a broad range of general and specialty services, including sleep apnea treatment via oral appliance therapy. If you are concerned about the quality of your sleep and how it may be affecting your health, our experts would be pleased to consult with you. Contact us at 203-580-6693.