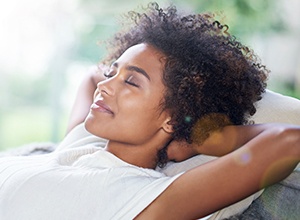 Chronic headache or migraine sufferers may go for decades without ever pinning down the source of their pain. That's a depressing fact — but a relatively new study out from the University of San Diego School of Medicine may provide at least some answers, if not a solution just yet. The research partially concerns your oral bacteria, or the stuff that lives in your saliva and mouth, so it's no surprise that your dentist in Meriden is right on top of it. Keep reading to find out more about the link between bacteria and the effect it could be having on your head!
About the Study
We all have millions of bacteria in our bodies, and examining the strains and their quantities can provide answers to some of our biggest questions — like why some people get chronic migraines and others don't. Researchers studied stool and oral samples collected by the American Gut Project, which says it's one of the largest crowdsourced, citizen science projects in the country. Samples included those from migraine sufferers and people who don't have migraines or headaches. The research shows that chronic headache and migraine sufferers also have something else in common: high amounts of a specific strain of nitrate-reducing bacteria in their bodies.
So what's the big deal about that? Well, this type of bacteria changes the nitrate in the foods you eat into nitrite. Nitrites then cause the blood vessels in the body to dilate, increasing blood flow. That's a good thing, right? If you suffer from heart problems, yes — but if you don't, that increased blood flow can cause the vascular instability that leads to migraines.
What Can You Do About It?
While we feel like sharing this information is important since it relates to your overall wellbeing, there's really not anything you can do about the bacteria that lives in your gut or mouth — yet. It's easy to imagine a treatment coming soon that targets this specific strain of bacteria, but for now, try reducing your nitrate intake and see if that makes a difference.
Foods containing nitrates include:
Dark chocolate

Red wine

Processed meats (hot dogs, lunch meats, sausages)

Canned stews and soups
Preventive Care Is Still Important
You can still prevent the numerous health conditions related to gum disease (like heart trouble, memory loss, and even certain types of cancer) by maintaining excellent dental hygiene. Fight "bad" bacteria while keeping the good by brushing your teeth for two minutes, twice a day using a fluoride toothpaste. Floss your teeth daily, and maintain a balanced, low-sugar diet. Avoid tobacco and, perhaps above all, don't forget to visit your dentist every six months for a checkup and cleaning!
That Reminds Us…
With the last point in mind, we would like to ask — when was your last visit to an excellent general dentist? We're the people you're searching for when you Google "best dentist near me," so go ahead and request an appointment today!