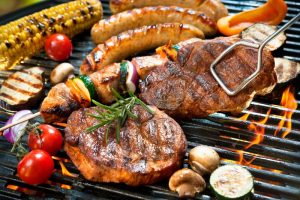 Did you have traditional dentures in the past? If so, you might remember feeling left out as your friends and family ate a wide variety of foods — and you had to limit your choices because of your prosthetic. Now that you have dental implants, however, things have changed. In fact, you can feel free to enjoy all of your favorite summer foods. How can dental implants equip you to eat anything you want, and how can you protect them while you are delighting your palate? This blog post provides practical information.
Dental Implants Provide Strong Chewing Power
Dental implants are small titanium cylinders that get surgically placed beneath a patient's gumline. They act as prosthetic tooth roots. When they are restored with a crown, bridge, or denture, they provide remarkably strong chewing power. In fact, they are almost on-par with natural teeth in terms of both function and comfort.
Thanks to their unique structure, dental implants can allow you to eat virtually any food. You should feel free to dig into items like grilled meats, corn on the cob, fresh vegetables, and anything else that you might have a craving for.
Tips for Successful Eating with Dental Implants
Dental implants are remarkably strong and reliable. Just like natural teeth, however, they are vulnerable to damage. To protect them and help them stand the test of time, you should adhere to some basic guidelines when you are eating:
Limit your sugar intake. It is fine to treat yourself to an occasional dessert. However, because sugar can be a major contributor to dental health problems, it is best to enjoy it in moderation.
Look for hidden sugar. Some people are surprised to find out how much sugar is in things like barbecue sauce, flavored yogurts, and sports drinks. It is wise to look at nutrition labels so you know what you are consuming.
Take care with tough foods. Instead of biting directly into tough and hard foods, like corn on the cob, cut them into small pieces first.
Cut back on highly processed meats. Hot dogs and similar items often contain large amounts of sodium and saturated fat. They can thereby contribute to inflammation in your mouth, which in turn can cause discomfort and other problems.
Establish good habits. A solid oral hygiene routine, paired with regular dental visits, can keep your implants in great shape for the long haul.
Dental implants can restore your ability to eat all of your favorite foods. Take good care of your new teeth so they can serve you well for many summers to come.
Meet the Practice
Meriden Dental Group is home to a talented team of oral health experts. If you have questions about dental implants and how to maintain a strong smile, we are ready to speak with you. Reach out to us at 203-404-6800.