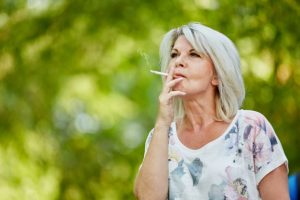 It is common knowledge that smoking is bad for teeth. But what if you have lost all of your natural teeth and are soon going to get dentures? That is not a reason to continue smoking. In fact, this habit can be just as detrimental for prosthetic teeth as it is for natural ones. How exactly does smoking affect dentures? Continue reading this blog post to find out.
Smoking Accelerates Bone Loss
In both smokers and nonsmokers, the jawbone experiences significant deterioration after the loss of the natural teeth. Eventually, this natural process can affect the shape of the jaw to the point where dentures no longer fit well. In smokers, the bone loss is accelerated, meaning that you may have to replace your prosthetic more often than you anticipated.
Smoking Can Make Dentures Less Comfortable
Smoking can cause inflammation throughout the mouth, causing your sensitive soft tissues to become swollen and sore. Even if your dentures are a precise fit for your unique oral anatomy, it may be difficult for you to wear them when your gums are inflamed. If you do manage to wear them, your ability to speak and eat normally may be limited.
Smoking Causes Stains
Dentures are usually made of either acrylic or porcelain. While porcelain is somewhat resistant to discoloration, both materials can begin to look lackluster and yellow over time. The risk of discoloration is heightened for smokers. Sticking to a thorough oral hygiene routine might minimize this issue, but it is still likely that your prosthetic teeth will lose their original beauty much more quickly than they would if they belonged to a nonsmoker.
Smoking Increases Odors
The smell of cigarette smoke can seep into the pores of your denture, causing them to take on an unpleasant taste and smell. You might find that you struggle with bad breath even if you make efforts to keep your denture clean.
How Can You Quit?
Quitting smoking is in your best interests, for the sake of your oral health and your dentures. Admittedly, though, kicking the habit can be extremely challenging. Here are a few pointers to help you out:
Talk to your primary care practitioner. They may be able to offer advice or medications that can help you to break away from cigarettes.
Try cutting back. Going cold turkey does not work for most people. You might start by simply reducing the number of cigarettes you smoke each day.
Do not give up. Most people make several attempts to quit smoking before they succeed. Keep trying, and eventually, you will be able to leave your habit in the past.
Smoking can adversely affect your smile — even if you do not have any natural teeth! You have every reason to quit as soon as possible.
Meet the Practice
Meriden Dental Group proudly offers a comprehensive range of oral care services to our community. If you have questions about your tooth replacement options or how to care for your dentures, we would be pleased to speak with you. Contact our office at 203-404-6800.