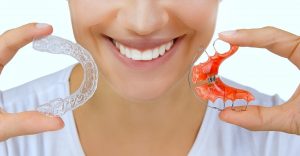 After you finish wearing your braces or clear aligners, you move onto the maintenance phase of treatment. With the use of a retainer in Meriden, you can prevent your teeth from drifting back into their former positions. Most patients will need to continue using a retainer for at least a few nights each week throughout their lifetime. For a retainer to be effective, though, it needs to be in good shape — and eventually, it will have to be replaced with a new one. How can you tell if it is time to swap yours out? This blog post discusses the average lifespan of some popular types of retainers.
Hawley Retainers
A Hawley retainer consists of a hard plastic or acrylic plate, which is connected to a wire that helps to keep teeth in place. The materials used to construct Hawley retainers are quite durable, which means that you can expect yours to last for around 5 – 10 years. However, some patients find that they need to replace theirs sooner. Here are a few signs that you might have to ask your dentist or orthodontist to provide you with a new one:
Your retainer's fit has changed. For example, it might feel unusually loose.
There are cracks. Cracks in a retainer's plastic plate will grow larger with time, eventually causing the device to lose its effectiveness.
The retainer is warped. If you accidentally expose your retainer to extremely hot temperatures, it could lose its shape and no longer functional well.
Clear Plastic Retainers
Clear plastic retainers resemble the orthodontic aligners that are used in Invisalign treatment. However, they are generally a bit thicker and stronger, so they last much longer than a typical Invisalign tray. On average, you can expect this type of retainer to last for 3 years or so before replacement becomes necessary. Some signs that it is time to get a new one include:
The plastic is stretched, cracked, broken, or has other visible signs of damage.
The plastic has incurred stains that make you self-conscious about wearing the retainer.
Fixed Retainers
Clear plastic retainers and Hawley retainers are removable, which makes them a bit more vulnerable to damage than the third type of retainer that we will discuss — fixed retainers. These are bonded onto the backs of the teeth in order to prevent dental movements. They tend to last for a minimal of several years; some patients even find that theirs last for decades. Of course, it is possible for the wire to become loose or break. If that happens, you should schedule an appointment with your dentist or orthodontist as soon as possible.
Is your retainer still functioning at 100%? If you are not sure, it is time to visit your care provider and find out if it is time to purchase a new one.
Meet the Practice
Meriden Dental Group is home to a group of talented, empathetic professionals. Orthodontic care, as well as orthodontic maintenance, are among the services we provide. If you believe you need a new retainer, we would be pleased to serve you. Contact us at 203-404-6800.