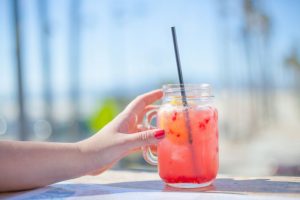 It is commonly believed that whether or not you drink through a straw is purely a matter of personal preference. Some people like straws and view them as fashionable and fun. Others want to sip their drinks directly. But is drinking through a straw actually better for your teeth? In many cases, yes. This blog post explains how a straw could protect your smile.
How Beverages Affect Your Teeth
Some beverages, including water and milk, cause little to no harm when they directly contact your teeth. Other items, though, are known to contribute to oral health problems. Here are a few examples:
Sports drinks, soda, and other soft drinks are often highly acidic. They can wear away at your tooth enamel and cause it to erode, leading to an increase in dental sensitivity.
Soda, juice, cocktails, and sweet coffee drinks may contain large amounts of sugar. When sugar combines with the bacteria in your mouth, it causes plaque formation that may eventually lead to cavities.
Tea, coffee, and certain juices are loaded with pigments. Those pigments can seep into your tooth enamel and cause stains.
A Straw May Protect Your Teeth
Of course, it would be best if you try to avoid beverages that could hurt your teeth. However, no one really expects you to say no to your daily cup of coffee or completely give up your favorite soft drink. When you choose to sip on such items, you can minimize the potential for harm to your teeth by using a straw.
A straw limits the amount of contact that liquids have with your teeth (as long as you swallow promptly and do not swish the liquid around your mouth). Therefore, you can limit your teeth's exposure to acid, sugar, and pigments that have the potential to damage your smile or dim its brightness.
Tips for Drinking Through a Straw
Here are a few notes to keep in mind as you try to take up the habit of drinking through a straw:
It is best to avoid disposable plastic straws. Plastic straws are bad for the environment. Instead, purchase a reusable straw with its own carrying case so you can bring it with you when you are out and about. (Make sure to buy cleaning tools that can help you keep your straw fresh and free of bacterial accumulation.)
Do not linger over your beverage. The longer you take to consume a beverage, the longer your teeth are exposed to harmful acids. Try to finish your drinks within a relatively short period of time.
Do not always use a straw. Straws are great for your oral health most of the time. However, they should not be used while you are recovering from a tooth extraction. The suction could disturb your blood clot and contribute to painful complications.
Do you want to maintain a healthy smile? Drinking through a straw is a simple step you can take to protect your teeth.
Meet the Practice
The friendly, knowledgeable team at Meriden Dental Group is always happy to share advice to help patients maintain their oral health. If you have questions about how you can enjoy all of your favorite foods and beverages while maintaining a strong smile, contact our office at 203-404-6800.