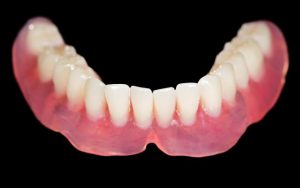 Dentures can provide reliable chewing function and an attractive smile — but that is only if they stay in place. Unfortunately, some denture patients struggle with prosthetics that do not want to remain where they belong. Why might a lower denture keep slipping out of place? What steps can you take to remedy the situation? Continue reading to find out.
Why Are Your Dentures Slipping?
Often, lower dentures slip out of place because they do not fit properly. This can occur for a few different reasons:
Changes to the jaw and gums. After the loss of natural teeth, the jawbone begins to shrink and change shape. Over time, this can affect how well the gums are able to support a denture.
Damage to the denture. Dentures are pretty durable. However, there are some circumstances that can cause them to break or even become warped. For example, this could happen if you use overly hot water to clean them.
Poorly designed dentures. In an effort to save money, some patients opt for "bargain" dentures. The final product may fall short of their expectations and not fit as well as it should.
Even if your dentures fit well, they might slip still out of place. This could happen if you are new to using your prosthetic and have not yet gotten the hang of using it.
How to Fix Slipping Dentures
If your dentures do not want to stay in place, talk to your dentist about your options. They might suggest one of the following:
A denture reline. This service involves adding material to the base of a denture so it fits more securely. Often, this can be done in a single appointment in your dentist's office.
The use of adhesive. Usually, natural suction is adequate to help dentures stay in place. In some cases, though, adhesive can provide the bit of extra stabilization that is required.
A new denture. If your denture is badly damaged or of poor quality, you may need to invest in an entirely new prosthetic.
Implant dentures. An implant denture is secured in the mouth via prosthetic tooth roots, which are surgically placed into the jawbone. Implant dentures almost never slip out of place, and they provide a stronger bite force than their traditional counterparts.
A lower denture that keeps slipping out of place can be an annoying and embarrassing problem! Fortunately, your dentist offers solutions that can help your prosthetic teeth stay where they belong.
Meet the Practice
The highly skilled team at Meriden Dental Group proudly offers dentures, denture maintenance services, and dental implant treatment. If you are struggling with denture slippage or have questions about your tooth replacement options, we would be pleased to speak with you. Contact our office at 203-404-6800.