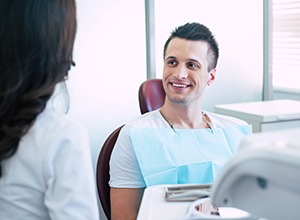 Every hour, around the clock, someone in the United States dies from oral cancer. Approximately 43,250 men and women in America will be diagnosed with this aggressive condition in 2015, and about half of those will succumb to the disease within five years. At Meriden Dental Group, our team performs oral cancer screenings with state-of-the-art technology, helping the families of Meriden, CT increase their odds of success in the fight against oral cancer.
Protecting Yourself from Oral Cancer
Because the oral cancer survival rate is substantially higher when the disease is detected in its earliest stages, our doctors emphasize the importance of annual oral cancer screening. Using a revolutionary new screening system known as Identafi, we are able to detect soft tissue abnormalities before they become visible to the naked eye.
In addition to scheduling your oral cancer screening at our office at least once per year, there are some things you can do between visits to reduce your risk of developing this disease. Patients who use tobacco in any form, for example, are more likely to suffer from oral cancer than someone who abstains. Heavy alcohol consumption can also increase your chances, as can sun exposure and HPV (human papillomavirus). Talk to our doctors and our experienced staff to learn more about how certain lifestyle changes can make a difference in your susceptibility to oral cancer.
Schedule Your Oral Cancer Screening
It is important to remember that early treatment equals an increased chance of survival. If you notice any unusual changes in your oral health – including white or red patches, persistent sores, numbness, or hoarseness – please contact our office as soon as possible to schedule an appointment. Meriden Dental Group warmly welcomes families from throughout Meriden, CT and the surrounding areas, including Middletown, Wallingford, Cheshire, Southington, and beyond.