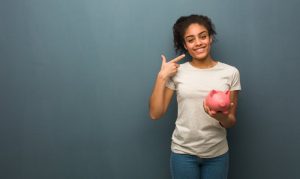 Many Americans are looking for ways to reduce their spending these days, especially as the holiday season draws near. They might be making simple sacrifices like going out to restaurants less often. However, some people are taking drastic risks in an attempt to cut back on spending, such as dropping their dental insurance in Meriden or canceling their dental appointments. But did you know that regularly visiting your dentist is actually a very smart way to save money? Read on to learn how.
Dental Insurance Covers Preventive Services
If you are already paying your monthly premiums for a dental insurance plan, you are practically throwing money away by not attending two checkups and cleanings every year. The majority of dental plans fully cover two of these visits a year. Since regular checkups go a long way toward keeping your smile healthy and preventing dental issues, attending these appointments can pay major dividends later on.
Treating Dental Issues Early Saves You Money
Often, routine dental exams let your dentist catch signs of tooth decay, gum disease, and other oral health problems long before you would have noticed them yourself. If they detect a small cavity, for example, you can get it treated right away with a minor filling. On the other hand, if you were to wait until your tooth started hurting to seek care, you might have ended up needing a crown, root canal, or other treatment that costs more than a filling. So, if your dentist advises any additional treatments, you would do best to get them taken care of promptly.
Reduce the Risk of Overall Health Problems
Oral health is directly linked to overall health. Research has shown that regular dental care can reduce the risk of multiple systemic conditions, including heart disease, type 2 diabetes, and dementia. When you avoid these issues by keeping up with your basic dental care, you can also avoid the high medical bills associated with treating them.
Your Dentist Wants to Make Saving Easy
Dentists are aware that many patients are feeling a pinch in their wallets these days, and they do not want cost to stand between you and the top-quality care you deserve. That is why your dentist's team will most likely handle the process of maximizing your dental insurance benefits and minimizing your out-of-pocket expenses. If you do not have dental insurance, ask the team whether the practice accepts third-party financing or offers their own in-house discount plan. Fitting the care your smile needs into your budget might be easier than you had thought!
At first glance, dental appointments might seem like an expense that you can easily afford to remove from your budget. In reality, though, investing in regular dental care will benefit your smile and your bank account in the long run.
About the Practice
At Meriden Dental Group, we believe in fully customizing each patient's dental experience to meet their unique needs – after all, every smile is different. Our dentists focus on creating a gentle, welcoming atmosphere so that patients of all ages can feel at ease in the treatment chair. Not only does our practice accept and maximize benefits for a large number of popular dental insurance PPO plans, but we also welcome CareCredit financing as well as Essential Dental Plan for uninsured patients. To learn more about saving money with regular dental visits, contact our office by calling (203) 404-6800.