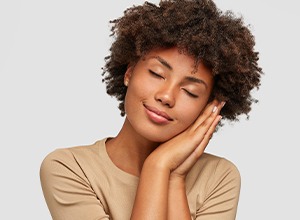 We humans have a lot of fears, and many are for a good reason. Snakes because poison. Heights because falling. Dentist because… wait, why do we fear the dentist again? It's an extremely common fear: in fact, seven out of 10 adults report having some fear of the dentist. Unfortunately, as many as half of adults avoid visiting the dentist as a result of their fear, only seeking treatment when their tooth pain becomes unbearable — and that's a real problem.

I suppose we fear the dentist because we fear pain. What you should know, though, is that dentistry is making great strides, especially in terms of comfort. These days, the chances that you'll experience the amount of pain you're imagining during any dental procedure — even those with the worst reputations, like root canals and extractions — are slim. That's because now, your anesthetic options are more effective and more accessible than ever before. Read on to learn more about your options in sedation dentistry.
Who Benefits from Sedation Dentistry
Sedative options are a wonderful solution for people with extreme dental anxiety — but they're not the only ones who can benefit. If you think you could stand to be a little more relaxed in the dentist's chair, there's a good option for you in sedation dentistry.
Patients undergoing several lengthy appointments, who experience difficulty sitting still for long periods of time or who have sensitive gag reflexes may also benefit from sedation dentistry.
Types of Sedation
We offer three types of sedation options. Learn which might be right for you.
Nitrous Oxide Sedation
Nitrous oxide, or laughing gas, is a popular choice for patients who experience mild to moderate dental anxiety. It's usually combined with a local anesthetic, which numbs the area that's being worked on. The nitrous oxide is then administered through a nasal mask, meaning you breathe it in to remain calm and relaxed throughout your procedure.
With nitrous oxide you remain awake, but you're totally free from pain and the anxiety that the sights, sounds and smells of the dentist office can cause. And once your procedure is over, the nasal mask is removed and the effects wear off immediately. That means there's no time spent recovering — you can drive away from your procedure and get back to your busy life.
Oral Sedation
Oral sedation is one of the most popular choices in sedation dentistry, appropriate for those who may need a little more than nitrous oxide. With oral sedation, you'll take a small pill before your surgery. Once you're comfortably settled into the chair, your doctor will administer a gas to increase the pill's effects. You'll soon be totally comfortable and completely removed from the procedure. Although you're technically still awake with oral sedation, we promise you won't feel anything. In fact, many patients report not remembering any details from the procedure after the effects wear off.
IV Sedation
IV sedation produces a similar effect as oral sedation for those with dental anxiety that approaches severe. As with oral sedation, you'll be awake enough to answer your dentist's questions, but you won't be feeling any pain whatsoever — we promise. You will need a family member or loved one to drive you home after your appointment, and to keep an eye on you for the rest of the day.
Make Your Appointment Today
If you're avoiding the dentist due to fear, please break the cycle. You do have options — schedule your appointment with your sedation dentist in Meriden today. We'll make you sure you're as calm, comfortable and relaxed as possible. We promise.