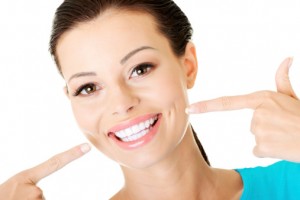 If you've watched TV, been to the movies, or spotted a celebrity magazine in the checkout line of your local store, you've probably seen bright, white smiles. Maybe this is partially the work of skilled graphic designers and photo editing software, but a whiter, brighter smile is not out of reach. Professional teeth whitening using the Zoom! Whitening and Kor bleaching system Meriden Dental Group has teeth whitening down to a science. In Meriden, CT our practice offers in office and at home teeth whitening options that will whiten and brighten your teeth at the molecular level. Call to schedule an appointment today.
Reasons Teeth Discolor
You may think that tooth discoloration is only enamel deep, but stains and the effects of aging can discolor more than just the surface of your tooth. Foreign materials discolor your teeth because a pellicule film forms over the enamel. That film can be removed by regular cleanings with you hygienist and brushing with a whitening or abrasive tooth paste. No matter how hard you work to remove pellicule film, overtime, the porous enamel absorbs coloring from into the dentin layer. Some whitening products are only effective in whitening the tooth's enamel which can reveal the discolored dentin below giving the impression of yellowing your teeth rather than whitening. Professional whiteners and over the counter whitening products that use hydrogen peroxide can be effective in removing stains from the dentin layer as well as enamel stains.
What Whitening Does
Teeth whitening using hydrogen or carbamide peroxide penetrates the porous tooth enamel, and removes foreign materials that cause discoloration from the surface and the dentin layers of your teeth. This is caused by a chemical reaction called oxidation. Oxidation has many forms, and some of them are better than others. Rust is a form of oxidation as is the breakdown of healthy skin cells due to exposure to UVA/B rays and pollutants. Harnessing this destructive power, whitening chemicals bond to the foreign substances that discolor your teeth and remove them.
How Kor is Different
The Kor whitening system works essentially the way that most professional grad teeth whitening products do, but rather than simply removing the foreign substance, Kor improves your tooth's ability to oxidize at the molecular level. This means that with regular care, the whitening is permanent because your tooth will continue to create oxygen that removes the molecules that would stain your teeth. We offer both in office and at home whitening treatment from Kor. With professional whitening treatments from Meriden Dental Group a permanently whiter smile is just one visit away.
Find Out More
If you want a celebrity smile for your next family photo, job interview, or just because you deserve it, Meriden Dental Group is here to help. Our Zoom! Whitening and Kor bleaching options are effective and flexible. We can help you achieve a picture-perfect smile. Call today to schedule your whitening appointment, or to find out more about any of our cosmetic dentistry options. Our Meriden, CT office welcomes patients from Southington, Cheshire, Wallingford, Middletown, and beyond.