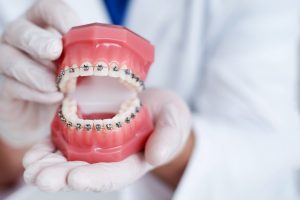 If you know you need traditional braces in Meriden, you may be tempted to ask your dentist if you can get them on just your top or bottom teeth, rather than undergoing full-mouth treatment. You might think that doing so would be a frugal and convenient way to improve your smile. Unfortunately, however, single-arch treatment is rarely recommended. This blog post discusses why many people are interested in single-arch treatment and why the results are usually better with full-mouth braces.
Motivations for Single-Arch Treatment
Most of the patients who request single-arch treatment are those whose dental misalignment causes noticeable aesthetic issues. For example, they may see that their top teeth, which are more visible when they smile, are noticeably crooked. Other patients struggle with crowding or other issues on the bottom arch but believe their top teeth are perfectly fine right where they are.
Single-arch treatment is possible in some cases, particularly for individuals without severe dental misalignment. In most cases, though, double-arch treatment is the better way to go. This is true even in instances where one row of teeth appears to be well-positioned.
Why Is Double-Arch Treatment Necessary?
Full-mouth orthodontic treatment is often necessary because, in most cases, moving only one row of teeth could cause or worsen bite problems. For example, fixing crowding on the top teeth requires that the teeth be moved forward. If the bottom teeth do not also move, any existing overbite is likely to increase in severity. Similarly, moving the top teeth backward to correct gaps could cause or worsen an underbite.
A misaligned bite can be a serious problem. It can lead to or exacerbate issues like TMJ pain, chewing difficulty, and worsening facial aesthetics.
Of course, just because double-arch treatment is usually the best option does not mean that you will get braces for all of your teeth at the same time. Many people get braces on their top teeth a few months before their dentist or orthodontist determines that it is time to place braces on the bottom.
Benefits of Full-Mouth Braces
Although it might be a little disappointing to know that you probably cannot get single-arch orthodontic treatment, rest assured that following your care provider's recommendation is the best course of action. Here are a few noteworthy benefits of double-arch braces:
You are likely to enjoy the best possible aesthetic results for your smile and facial profile.
Treating both arches at once is the most efficient way to address dental misalignment. It is also more cost-effective than addressing one arch and going back later to treat the other.
Braces can benefit your whole smile — from top to bottom! Your dentist or orthodontist will let you know the specifics of what you can expect as you journey toward a straighter set of teeth.
Meet the Practice
The team at Meriden Dental Group is proud to offer a wide range of treatments, including traditional braces. If you have questions about what to expect while straightening your teeth, we are always pleased to educate our patients. To learn more about how we may be able to serve you, contact us at 203-404-6800.