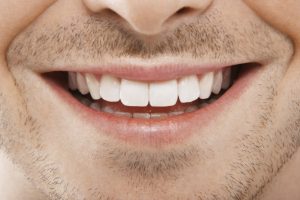 The size and shape of your teeth can have a significant effect on your overall appearance. If they are crooked, too small, worn-down, or chipped, your smile is losing out on its true potential. Misshapen teeth also pose a danger to your oral health. What can you do to reshape your teeth and achieve a healthier, more attractive mouth? In this blog post, we talk about some restorative treatment options that may be able to deliver the results you are hoping for.
Orthodontics
Orthodontic treatment will not change the shape of individual teeth, but it can change the overall shape of the way your teeth fit together. For example, it can change the angle of the teeth, move the teeth closer together, address bite issues, and correct rotated teeth. Either Invisalign or traditional metal braces may be able to help you achieve the desired results. Many patients opt for Invisalign because it is both discreet and convenient, whereas severe cases of misalignment may require traditional braces.
Crowns
A crown is a tooth-shaped cap that fits over the entire visible portion of a tooth (everything above the gum line). It can thereby disguise misshapen teeth and fortify damaged teeth, thus improving the overall appearance and function of your mouth. Porcelain crowns closely resemble real tooth enamel, so you will not have to worry that onlookers will easily be able to tell that you have had some dental work done.
Porcelain Veneers or Direct Bonding
Porcelain veneers are thin pieces of porcelain that get placed on the fronts of teeth. They are custom shaped and colored to disguise the teeth's flaws and produce a natural-looking final result. Direct bonding involves molding a tooth-colored resin onto the tooth. It is also quite natural-looking, but its results are not as durable or long-lasting as porcelain veneers.
Dental Implants
Dental implants are designed to replace missing teeth altogether. They are substitute tooth roots that support crowns, bridges, or dentures. They might be an excellent choice for you if your misshapen teeth are damaged to the point where extraction is the best course of action.
Making Your Decision
Picking the right treatment for you begins with a visit to your dentist. They will evaluate your oral health and listen to you as you talk about your goals for the shape of your teeth. Then, they will design a custom treatment plan that aims to help you achieve an optimal outcome.
Are you ready to reshape your teeth? Orthodontic treatment, crowns, veneers, bonding, or dental implants — or a combination of such treatments — might be what you need to gain a more attractive and fully functional smile.
Meet Our Practice
Meriden Dental Group is proud to have two talented general dentists and two specialists on-staff to handle the needs of practically any patient who walks through our doors. We offer a broad range of cosmetic and restorative treatments that can reshape and renew teeth. To learn about your options for achieving the healthy, attractive teeth you have always wanted, contact us at 203-404-6800.