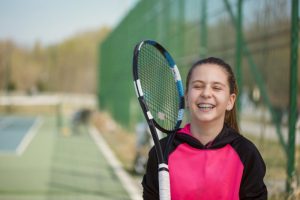 Sports are a great way to get exercise, build positive relationships, and develop a positive attitude. As wonderful as they are, however, they might come with some big questions. For example, if you are an athlete who wants to get your teeth straightened, you might wonder how sports and orthodontic treatment in Meriden affect each other. In this blog post, we will discuss a few important points to keep in mind as you use traditional metal braces or clear aligners.
There Are Special Mouthguards Designed for Use with Braces
If you choose to get metal braces, it is more important than ever that you wear a mouthguard. Not only will it protect your teeth and gums, but it will also lower the risk of damage to your braces' brackets and wires. In order for your mouthguard to be effective, you should wear a custom one that is designed specifically to be used with braces. It will fit better, be more comfortable, and provide a higher level of protection than a basic over the counter mouthguard.
Invisalign Is Not a Substitute for a Mouthguard
Although Invisalign aligners look similar to mouthguards, it is important to remember that they are not designed to protect your mouth against injury. Invisalign is simply not strong enough to prevent damage to your oral tissues if you suffer a hard blow to your face. Therefore, if you use it as your orthodontic treatment in Meriden, be sure to remove your aligners before practices and games. This is especially important if you play hockey, football, or another contact sport. Wear a custom mouthguard while you are playing, and put Invisalign back in your mouth after you finish on the field or court.
Of course, some sports are much lower risk and might allow you to keep your aligners in your mouth while you play. Gymnastics, track and field, and tennis all fall into this category.
Orthodontic Treatment Will Not Adversely Affect Your Performance
A bit of discomfort is normal when you get your braces tightened or switch to a new Invisalign aligner. However, you should not be in any severe pain, and it is unlikely that your treatment will distract you to the point where your athletic performance will suffer.
If you are concerned about missing games or practice due to your orthodontic appointments, try to find a dentist whose operating hours allow you to visit them when you are not obligated to attend an athletic activity.
Your Dentist Is Ready to Help
Of course, accidents happen sometimes. If your teeth or orthodontic appliances get damaged when you are playing sports, contact your dentist right away. They might be able to provide you with a same-day or next-day emergency appointment.
There is no reason why sports and orthodontic treatment should have to interfere with one another. You can achieve a straight smile while continuing to enjoy your favorite athletic activities.
Meet the Practice
The experts at Meriden Dental Group are proud to offer both Invisalign and traditional braces. If you have questions about orthodontic treatment and how it might affect your favorite hobbies, they would be pleased to speak with you. Contact our team at 203-580-6693.