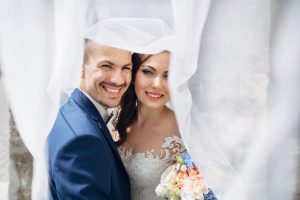 Are you looking forward to a special event? Perhaps it is a wedding, a vacation, a job interview, or even your high school reunion. Whatever the occasion is, you surely want to make a good impression. To that end, you might be thinking about whitening your teeth. But when should you start your bleaching treatment? This blog post provides some guidance to help you answer the question, "How close to an event should I whiten in Meriden?"
How Long Does Whitening Take?
Exactly how long teeth whitening takes depends on the specific method you choose to brighten your smile. Generally speaking, your options fall into one of two categories:
At-home whitening may use trays, strips, or other means of delivering a whitening solution to your teeth. With repeated use over the course of two weeks or so, you should see optimum results. At-home whitening products can be purchased over the counter or provided by your local cosmetic dentist
In-office teeth whitening is a professional treatment performed in your dentist's office. It can usually brighten teeth by several shades in just one hour or so.
Plan Ahead and Leave Some Wiggle Room
Here are a few tips to help you choose the right time to whiten your teeth:
Plan ahead. Dental offices can have a full schedule at times, so calling your local practice to schedule an appointment well ahead of your special event can make sure you secure a time slot that is convenient for you.
Do not wait until right before the event. Teeth whitening does not take a lot of time. However, it often causes a temporary increase in dental sensitivity. For in-office whitening treatments, patients are even required to stick to a "white diet" for 48 hours or so after their appointment. To make sure you can fully enjoy any food that is available at your special event, you should complete your whitening treatment at least a couple of weeks beforehand.
Leave room for trial and error. If you want to try an over the counter whitening product, you may want to test it out several months before your event so you can determine if it provides satisfactory results. Often, professional treatments are much more effective.
Maintain Your Results
To protect your newly whitened smile before and after your event, there are some simple precautions you can take:
Consume staining foods and beverages in moderation
Drink dark liquids through a straw
Stick to a thorough oral hygiene routine
Do not use tobacco products
Appropriately timing your whitening treatment can help you feel and look your best at virtually any event! Hopefully, the above tips will be useful as you prepare your smile.
Meet the Practice
The talented team of dentists and staff members are Meriden Dental Group are proud to provide a range of cosmetic treatments, including in-office and take-home professional whitening. To learn more about these services or other ways in which we may be able to enhance your smile, contact us at 203-404-6800.