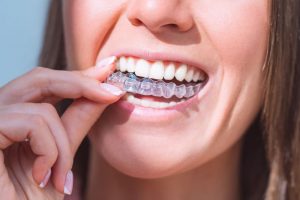 TMJ disorder, which is also known as TMJ dysfunction or simply TMD, is a complicated condition. It occurs when the jaw joint (located in front of your ears) incurs an injury or becomes stressed. TMD can be responsible for a range of unpleasant symptoms, including jaw pain, difficulty chewing, headaches, and more. If you are struggling with TMD, you may wonder about your treatment options.
For example, you might want to know if Invisalign can correct your condition. In some cases, yes, clear aligners can be helpful for TMD sufferers. This blog post further explains how this treatment might be able to help.
Malocclusion: A Possible Cause of TMD
TMD can be caused by a number of different issues, but one of the most common is malocclusion (also called a misaligned bite or simply a "bad bite). If your top and bottom teeth do not work together properly, your jaw joint has to compensate for the misalignment. This continual workload can strain the joint and adversely affect the surrounding muscles, leading to TMD symptoms.
There are different types of malocclusion, all of which might place excess strain on your jaw joint:
Underbite
Overbite
Crossbite
Open bite
Correcting Malocclusion with Invisalign
A few decades ago, when Invisalign first stepped onto the scene, it was regarded as little more than a cosmetic treatment. Today, though, the technology used in clear aligner treatment has made great strides forward. Forward, it is capable of addressing many serious orthodontic issues, including some cases of malocclusion.
Invisalign's aligners, often along with special accessories, can adjust both the teeth and the position of the lower jaw. Over time, it can ease the stress on your jaw joint, contributing to more relaxed muscles and reduction in inflammation. Many patients who undergo orthodontic treatment notice a significant improvement in their TMD symptoms. For some, their TMD completely disappears!
Get Started on Treating TMD with Invisalign
If you want to learn if Invisalign would be an appropriate way to address your TMD, book a consultation with your dentist. After they carefully evaluate your bite, they may get started on designing your clear aligner treatment.
If Invisalign is not a fit for your situation, they may steer you toward other services or at-home remedies that could help you find relief. For example, some patients can manage their symptoms by adjusting their diet, wearing a nightguard to prevent bruxism, or visiting a specialist for advanced care.
Could Invisalign put a stop to your TMD symptoms? Visit your dentist to find out!
Meet the Practice
The talented dental professionals in our practice are proud to provide a range of treatments, including Invisalign clear aligners, nightguards, and more. If you are struggling to cope with symptoms of TMD, we would be happy to evaluate your situation and recommend your next steps. Get in touch with Meriden Dental Group at 203-404-6800.