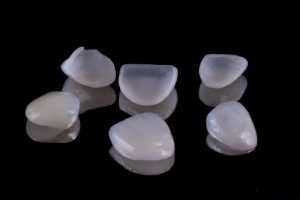 Dental veneers have a widespread reputation for being able to help patients quickly disguise aesthetic imperfections in their teeth. In most cases, they are constructed out of porcelain, which is very strong and resistant to stains. But you might wonder, can veneers be made out of materials other than porcelain? This blog post explains a few other options that might be available to you.
Different Types of Porcelain and Ceramic
It is important to understand that porcelain is a type of ceramic. Ceramic is a broad term that can refer to a range of materials that are composed of clay and other components that are fired at high temperatures to make them strong and durable.
Porcelain is defined by the specific type of clay and firing process that is used in its creation. It has a reputation for being both durable and beautiful.
The vast majority of veneers are made of either a type of ceramic or porcelain. For example, in addition to basic porcelain veneers, you might be a candidate for veneers that are constructed out of zirconia (also called zirconium). There are also some types of brand-name porcelain that are designed to be stronger or thinner than other varieties.
Composite Resin Veneers
Aside from porcelain and ceramic, composite resin is the material most commonly used to create dental veneers. It is made of a mixture of plastic, tiny glass particles, and other components that tend to work well within the mouth. It is similar to the resin that is used to fill in cavities.
Composite resin veneers are not as durable as porcelain and ceramic options. In fact, they may last for only 3 – 5 years before they need to be replaced (porcelain crowns can last for 10 – 20 years). They are also more vulnerable to stains. However, they do offer some advantages. For example, they can look absolutely beautiful, they have a lower cost, and they take just one appointment to place (porcelain veneers take at least two appointments).
Which Type of Veneer Should You Choose?
Talk to your dentist about your veneer options. They can help you understand the pros and cons of each of your choices. If you are on a budget and want to modify the appearance of just one or two teeth, composite resin might be right for you. If you want greater durability from your treatment, or you want to completely transform your entire smile, porcelain may be more suited to your goals.
Veneers are not a "one size fits all" cosmetic service. Their size, shape, color, and even their material are all customizable! Your dentist will design a treatment plan to help you achieve a confident and glowing smile.
Meet the Practice
The cosmetic dentists at Meriden Dental Group take great pride in helping patients reach their aesthetic goals for their teeth. If you have questions about veneers or other treatments that could enhance your smile, our team is ready to speak with you. Get in touch with our office at 203-404-6800.