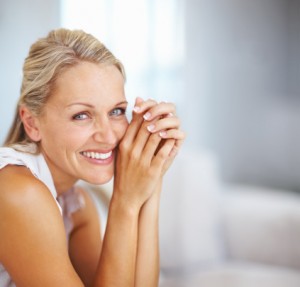 If you are missing a tooth or multiple teeth, you understand exactly how it can negatively affect your quality of life. From speech difficulties to problems with chewing and insecurity when you smile, missing teeth impact nearly every aspect of your day-to-day existence. Dental implants, sometimes called teeth implants, are often the ideal replacement solution for men and women who have lost one or more teeth.
Benefits of Lifelike Teeth Implants in 06450
A dental implant comes closer to the structure of a natural tooth than any other restorative option. The implant itself – which is comprised of a small, screw-like post made of zirconia or titanium – replaces the root structure of the lost tooth. A custom restoration is then secured to the post, completing the procedure.
Whereas dentures and other removable prosthetics can limit your dietary choices and cause embarrassment in social situations, dental implants look and feel like your natural teeth. No one ever has to know that you've had restorative work done.
When you lose a tooth, the jaw bone that once supported it begins to atrophy, ultimately leading to a sunken appearance and the loss of additional teeth over time. With teeth implants, you needn't worry about bone deterioration in the jaw. The implants stimulate the bone and keep it strong and healthy.
If you are looking for a more permanent and secure tooth replacement option, ask your doctor at Meriden Dental Group about dental implants. We look forward to helping you once again enjoy the full benefits of a complete set of teeth that look and feel completely natural.
Schedule Your Dental Implants Consultation
Whether you are missing a single tooth or are in need of a full arch of replacement teeth, the team at Meriden Dental Group can help. Contact our office today to schedule your restorative dentistry consultation with our experienced dental implant experts. Our comprehensive menu of restorative and cosmetic dentistry solutions offers everything you need to enjoy a complete smile once again. Our state-of-the-art dental practice is privileged to serve families from throughout Meriden, CT and the surrounding areas, including Wallingford, Southington, Cheshire, Middletown, and beyond.