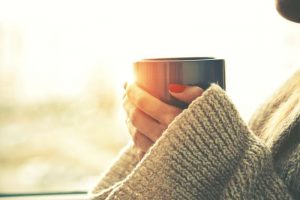 Are you among the countless millions of people who like to ease into each day with a steaming cup of coffee? If so, you might have questions about how clear aligners could affect your morning routine. Is it okay to drink coffee with Invisalign? Yes, it is perfectly fine! This blog post provides some tips to help you enjoy your daily cup of Joe without endangering your orthodontic treatment.
Remove Your Aligners
You should never consume coffee while you are wearing your Invisalign aligners. You must remove them for a few reasons:
Coffee is dark in color. Its deep pigmentation could easily stain your aligners and cause them to lose their discreet appearance.
Hot temperatures may warp your aligners. Your coffee could cause your Invisalign to lose its shape and therefore lose its effectiveness.
Your oral health may be endangered. Coffee, as well as any sugar that you put in it, could sneak into your aligners and end up trapped against your teeth. That would heighten your risk of decay and other dental problems.
Drink Your Coffee All at Once
Some people like to pour a generous amount of coffee into a thermos and slowly sip on it throughout the day. If that is true of you, you should adjust your habits. Frequently taking your aligners out of your mouth to drink coffee could significantly cut into your total wear time. You might even end up falling short of the 20 – 22 hours that you should have Invisalign in your mouth each day.
Try to have your coffee at breakfast time, and do your best to finish it within a 15 – 20 minute window.
Brush and Rinse after You Finish
After you finish your cup of coffee, do not place your aligners back in your mouth right away. Instead, gently brush and floss your teeth. It would also be wise to thoroughly rinse your mouth and your aligners. Sticking to these good habits will help you to enjoy a fresh, clean, and healthy mouth throughout your treatment.
Cut Back on Sugar
Do you like to add cream and sugar to your coffee, or do you like to stop at the local espresso shop for a yummy latte? Sweetened coffee is certainly delicious, but if you are not careful, all of that sugar could get trapped in your aligners and cause dental problems. It is generally best to drink your coffee black or with a small serving of sugar-free creamer.
Invisalign will not force you to stop drinking coffee, but it may make it necessary for you to adjust some of your habits. Use the tips in this article to enjoy your daily pick-me-up without negatively affecting your treatment.
Meet the Practice
Meriden Dental Group proudly provides Invisalign and a range of other treatments to patients in our community. If you have questions about what to expect while you are straightening your teeth, we would be happy to speak with you. Get in touch with our friendly team at 203-404-6800.