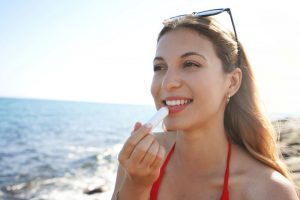 As the sunny season heats up, it is common to hear reminders about the importance of sunscreen. Sadly, though, the lips are often overlooked when it comes to sun protection. If they are not properly shielded, they could easily incur burns. Even worse, they are susceptible to cancer! How exactly should you protect your lips from the sun? This blog post provides helpful tips.
Wear SPF
Regular sunscreen can protect your lips just as well as it protects the rest of your body. However, it can taste pretty awful, and it may cause dryness and irritation for your delicate lip skin.
As an alternative, use a lip balm that contains SPF. You may find some that feature SPF 15, while others may have SPF 30. The latter is the better choice because it can block out up to 97% of the sun's UVA and UVB rays (SPF 15 blocks out just 93%).
Reapply Your SPF
Lots of people remember to apply sunscreen. Unfortunately, they forget to reapply it at appropriate intervals. As a result, they are more likely to incur burns. Regular sunscreen should be reapplied approximately once every 2 hours (more often if you are sweating a lot or swimming).
SPF lip balm may need to be reapplied every hour because it can easily wear off as you are eating or licking your lips. Keep your lip balm in your pocket so you are never without it!
Wear a Hat
A hat provides a simple and fashionable way to cast some shade on your face and reduce the risk of sunburn on your lips. Sunhats and baseball caps made out of solid materials both work well. Try to choose one that features a UPF of 50 or greater.
Stay Inside During the Hottest Part of the Day
The risk of sunburn tends to be at its peak during the middle part of the day, from late morning until around 4 P.M. If your schedule allows for it, stay indoors throughout that time period. If you have to be outside, make an attempt to stay in the shade as much as possible.
Your lips are a vital part of your smile and your oral health! Take measures to protect them so you can enjoy a burn-free summer.
Meet the Practice
Meriden Dental Group features a highly talented team of oral health experts. We offer oral cancer screenings and a range of other services that are designed to help our patients enjoy problem-free smiles. To learn more about how we may be able to serve you, get in touch with us at 203-404-6800.